Snow wins $45,000 to be used in Agribusiness project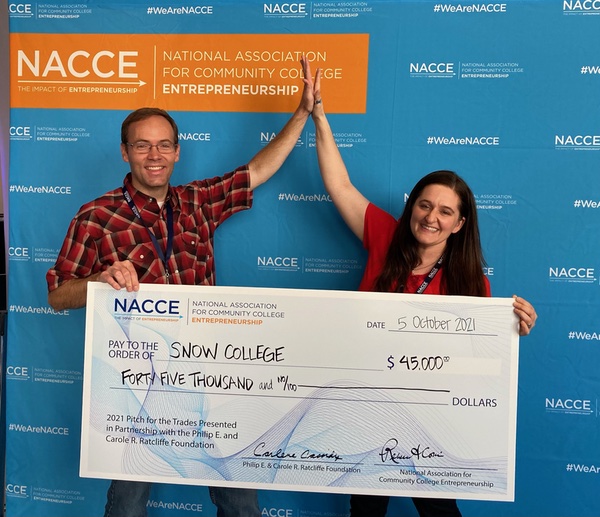 October 7, 2021 – Ephraim, UT – Snow College announced a grant this week that will support technical education programs. Representatives from the Snow College GRIT Center competed in "Pitch for the Trades" at the National Association for Community College (NACCE) 19th Annual Conference, winning $45,000 dollars. Their project, titled "Snow-ganics Compost" is a collaborative project between the entrepreneurship center and agribusiness program and aims to develop a composting center at Snow College. Snow was one of six teams competing for a total of $135,000 in prize money. The pitch was so persuasive that the awards committee not only recognized the project with the top prize, but also awarded an additional $15,000 over the original ask.
This award came after months of development. The first round of the competition was in early September, and throughout September and up through the final round on October 5, Snow pitched Snow-ganics Compost to judges four times. "Pitch for the Trades" is an opportunity for students to get experience in their trades and supports NACCE's mission of encouraging the education of entrepreneurship.
Vice President Stacee McIff was ecstatic about the news. She said, "This national award is evidence of the GRIT Center's mission. Through hard work, leadership, and tenacity the GRIT Center team demonstrated Snow College's innovative drive to give students hands-on entrepreneurial experiences. These funds will provide students with a unique, real-world opportunity that is exclusive to Snow and fits perfectly with our regional needs. These types of experiences are the foundation for Snow's exceptional student success rate."
For more information Pitch for the Trades, please visit https://www.nacce.com/pitchforthetrades.
To read the press release from NACCE, please visit https://www.nacce.com/news/five-colleges-win-nacces-2021-pitch-for-the-trades-competition-in-minneapolis.
ABOUT SNOW COLLEGE
Snow College, founded in 1888 by Utah pioneers, is a two-year college with campuses located in Ephraim and Richfield, Utah. Serving more than 5,000 students, the college has been nationally recognized for its student success rates, affordable cost-for-value, involvement opportunities, and exceptional teaching. Learn more about all Snow College has to offer online at snow.edu.