Professor Rachel Keller and Professor Chad Dewey to receive awards at Commencement 2023
April 26, 2023 -- Ephraim, UT – Two faculty members will be recognized during Snow College's Ephraim Commencement Ceremony on May 5, 2023. Professor Rachel Keller will be presented with the Jesse Madsen Brady Teaching Award, and Professor Chad Dewey will be awarded the J. Elliot & Maxine Cameron Faculty Service Award.
The Jesse Madsen Brady Teaching Award recognizes a Snow College faculty member who has demonstrated superior teaching in the classroom and service to students outside the classroom. Professor Rachel Keller has exemplified these qualities since she came to Snow College in 2011 as an English faculty member. Professor Keller's goal is to make her classroom a welcoming place of learning and belonging. She supports her students and makes English classes accessible—even to those who have struggled with writing in the past. Professor Keller sees the whole student and recognizes that many come to school with extra challenges. She connects these students with appropriate resources to ensure that they have what they need to be successful in and out of the classroom.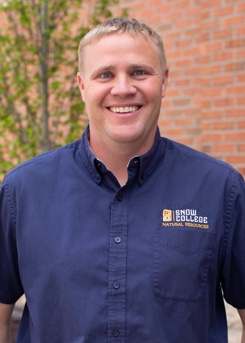 The Elliot and Maxine Cameron Faculty Service Award was designed to recognize faculty members who have a history of distinguished service. In his 11 years as a Natural Resources professor at Snow College, Professor Chad Dewey has demonstrated that serving others is a part of who he is. Professor Dewey not only demonstrates exceptional teaching in the classroom, but he also gives his students amazing opportunities to learn and gain first-hand experiences that others only dream about. He has organized service with his students to round up bison on Antelope Island, help biologists survey deer populations, assist in research on bears in their winter dens, and more. Professor Dewey also serves his colleagues as the "Dean of Lunches," providing food at division meetings, social functions, and Snow College Science Olympiad.
When asked about the award recipients, Provost Melanie Jenkins said, "I'm excited to present Rachel and Chad with these awards. Both are dedicated and caring teachers who go above and beyond for their students. Snow College is a better place because of their efforts."
About Snow College
Snow College, founded in 1888 by Utah pioneers, is a two-year college with campuses located in Ephraim and Richfield, Utah. Serving more than 5,000 students, the college has been nationally recognized for its student success rates, affordable cost-for-value, involvement opportunities, and exceptional teaching. Learn more about all Snow College has to offer online at snow.edu.