The President's Club is a growing circle of alumni and friends dedicated to helping Snow College achieve our mission of providing life-transforming educational experiences for our students. President's Club members are the philanthropic leaders of Snow College. President's Club membership demonstrates a tremendous commitment to providing ongoing support to our students and to the College at-large.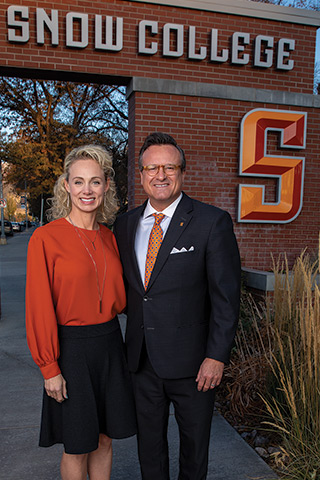 "On behalf of the students, faculty, staff, and alumni who comprise the Snow College community, I want to offer our President's Club members my deepest thanks. Because of your dedication to this incredible college and support of our students, you help to create a one-of-a-kind learning environment that facilitates life-changing moments." - President Bradley J. Cook
Recognition and Engagement
The President's Club is a special circle of friends and alumni sharing a passion for and pride in Snow College. They build futures at Snow College by:
Providing leadership support
Making generous contributions in support of scholarships and other programs
Fostering significant ongoing philanthropy to realize the Snow College mission
The President's Club is the most prestigious Snow College donor club. Membership in the club includes donors who make an annual contribution of $1,000 or more in a calendar year. Unrestricted gifts are most helpful because they are applied to the areas of greatest need at Snow College. However, President's Club gifts may be designated to support a specific academic program, facility, scholarship fund, or athletics.
Full list of President's Club members here.
President's Club members enjoy:
An annual recognition event and special occasions with the President
Invitations to campus activities
Subscriptions to Snow College publications
Access to the Snow College Karen Huntsman Library
Special recognition in the Annual Report within the Snow College magazine
Priority access in purchasing tickets for Fine Arts and Badger sporting events
The knowledge that you are building futures at Snow College
Join us!
If you would like to become a member of the President's Club, please use the button below to make a $1,000+ donation to any designation.