Welcome to Snow College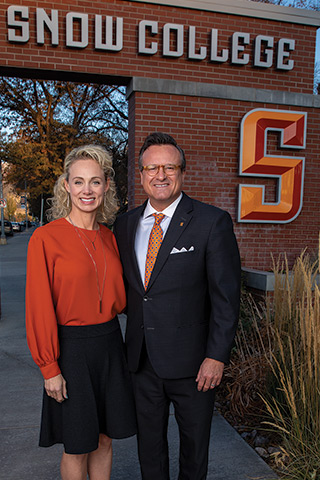 My wife, Jen, and I are happy to be at Snow College! Since accepting this presidential appointment, I have been flooded with fond memories of being a student here 35 years ago. The Ephraim campus is even more glorious now with a beautiful new Bergeson Athletic Center, Huntsman Library, Graham Science Center, Eccles Center for the Performing Arts, and Suites at Academy Square. We now have a second campus in Richfield that was not affiliated with the college three decades ago. Remarkable things – such as a 87 percent student success rate – are happening all around!
As I reflect on my personal experience at Snow, what I remember most is the reassuring sense that the campus cared about me not just as a student-athlete, but as a maturing young man. I felt connected and supported but also, importantly, challenged. Snow College was my door-way to success. After two degrees at Stanford, work overseas, further graduate work at the University of Oxford, and a very satisfying career working in the Utah System of Higher Education, I am humbled by and grateful for the opportunity to return to my Alma Mater where my post-high school journey began.
Our faculty and staff are ready to teach, mentor, and care for our students who are now beginning their journey here. We promise an experience that includes involvement, personal growth, and academic quality which will prepare students for transfer or the workplace. This is what we do: prepare a generation of students to rise with the challenges of our current age, and we do it in a nurturing environment. We know our students will continue to make a difference in the world, and we are honored to be a part of their stories. This is an extraordinary place with a special and unique history, and we welcome you to come and experience all Snow College has to offer.
Once a Badger, always a Badger!
Bradley J. Cook
President