Hand-coloring Photographs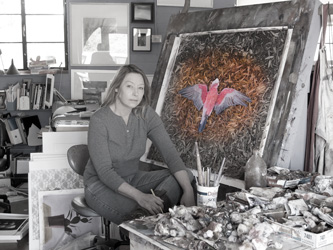 Course Description:
Hand-coloring is as old as photography itself. Applying color to a photograph, alters it, makes it unique, and expends the interpretive expressions of a photograph. This course is an introduction to the materials and techniques and is designed to inspire you to experiment with images in a whole new creative process. Starting with digitally outputted prints, we will apply a variety of media including oil paints, ink, pastels and pencils. The possibilities are limited only by your imagination......and it's really really fun!
Biography:
Kate Breakey is internationally known for her large-scale, richly hand-colored photographs including her acclaimed series of luminous portraits of birds, flowers and animals in an ongoing series called Small Deaths published in 2001 by University of Texas Press with a foreword by noted art critic, A. D. Coleman. Since 1980 her work has appeared in more than 90 one-person exhibitions and in over 50 group exhibitions in The United States, France, Japan, Australia, China, and New Zealand.
Her work is held in many public institutions including the Center for Creative Photography in Tucson, the Museum of Photographic Arts in San Diego, the Museum of Fine Arts in Houston, the Wittliff Collections at Texas State University in San Marcos, the Austin Museum of Art, the Australian National Gallery in Canberra and the Osaka Museum in Osaka, Japan. Her third book, Painted Light, published by the University of Texas in 2010, is a career retrospective that encompasses a quarter century of prolific image making. Her collection of photograms, entitled 'Las Sombras / The shadows' was published by University of Texas Press in October 2012. This series is a continuation of her lifetime investigation of the natural world which in her own words is 'brimming with fantastic mysterious beautiful. A native of South Australia, Kate moved to Austin, Texas in 1988. She completed a Master of Fine Art degree at the University of Texas in 1991 where she also taught photography in the Department of Art and Art History until 1997. In 1999, she moved to Tucson, Arizona.
In 2004 she received the Photographer of the Year award from the Houston Center for Photography. She now regularly teaches at the Santa Fe Photographic workshops, and The Italy 'Spirit into Matter' workshops.
Website: www.katebreakey.com