Snow College and Uintah Basin Technical College enter articulation agreement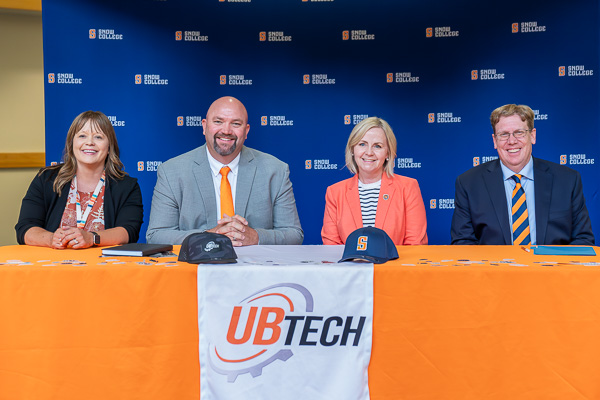 August 22, 2023 – Ephraim, UT – Students at Uintah Basin Technical College (UBTech) have a new transfer option thanks to an articulation agreement between UBTech and Snow College. The partnership will allow UBTech students to leverage their technical training, providing them with a fast-track to an associate degree.
Students who transfer from UBTech to Snow College will now have the opportunity to apply their training as credits toward a degree in nursing, pre-engineering, computer information systems, business, or general technology. This agreement will save students time and money, as it will enable most UBTech transfer students to earn their degree one or two semesters faster.
President Stacee McIff, who began this articulation process in her previous role as Vice President for Technical Education said, "We are so excited to offer this opportunity to students who have taken classes at UB Tech and want to pursue additional training. Snow College is the perfect fit, and our faculty and staff are committed to helping with a seamless transfer."
The college is working with other technical schools in the region and hopes to announce more partnerships in the coming months. If your school would like more information about partnering with Snow College, please contact: Jay Olsen, Vice President for Technical Education.
To learn how you can turn your technical training into a degree, please see snow.edu/techtransfer.
ABOUT SNOW COLLEGE
Snow College, founded in 1888 by Utah pioneers, is a two-year college with campuses located in Ephraim and Richfield, Utah, and a learning center in Nephi, Utah. Serving more than 5,000 students, the college is committed to helping students graduate debt-free, gain resume-worthy experience, and develop a plan for the future. The affordable price and personalized environment full of opportunities allow students who find Snow College to find themselves. Learn more about all Snow College has to offer online at snow.edu.