Utah football » Badger alums come to Salt Lake City fully prepared, thanks to coach Britt Maughan and his Ute-centric program.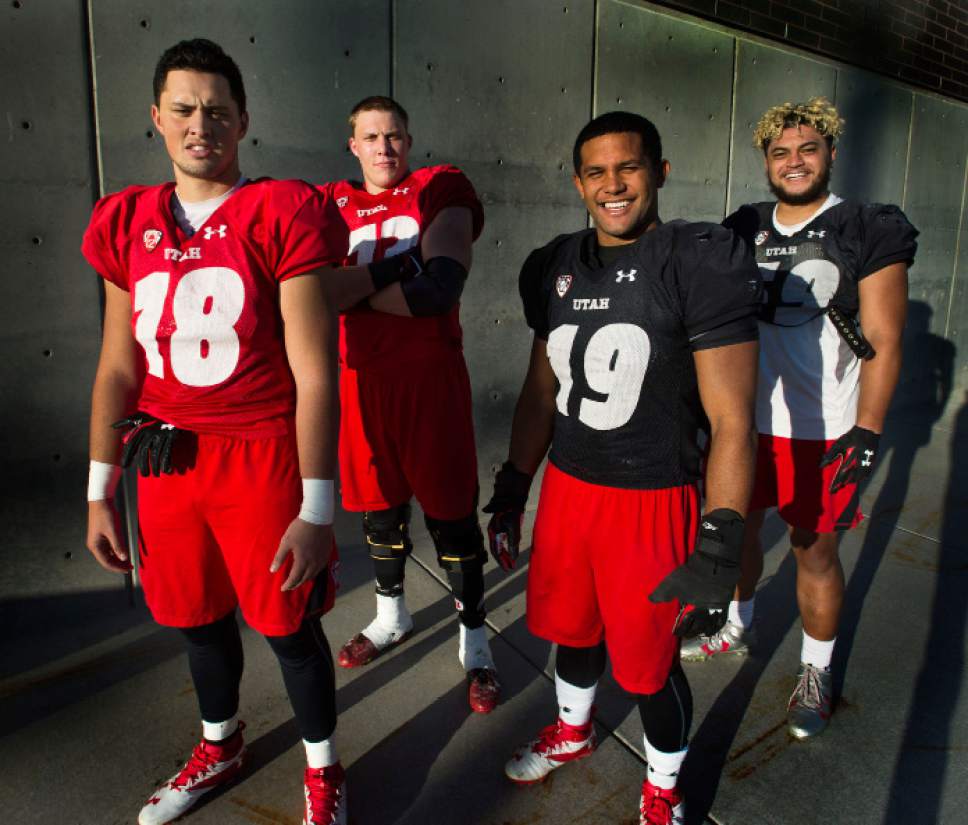 The Salt Lake Tribune • Ephraim, Utah • October 13, 2016
For an offensive lineman, Garett Bolles shows up a lot on postgame highlights.
A Vine clip that has been looped nearly 3,000 times shows a clip of Bolles, Utah's junior tackle, going against Arizona Justin Belknap. Bolles tosses Belknap, about 50 pounds lighter, to the turf. And then as Belknap rises to his knees, Bolles gives him an extra shove to keep him there.
That nastiness, the willingness to dominate an opponent completely, is something Bolles said he learned at Snow College.
" I just sort of picked up the habit," he said. "I just wanted to be the offensive lineman who always finishes. I've got that fire in the back of my head that continues to move me forward."
Bolles is one of four Utes who came from the junior college powerhouse here to play major roles on the team, along with linebacker Sunia Tauteoli, tight end Evan Moeai and defensive tackle Pasoni Tasini. All have started games this year for No. 21 Utah, (5-1, 2-1), and each of them is accountable for game-changing plays — from Tauteoli's pick-6 against BYU, to Tasini's safety against Arizona.
Snow College has been one of Utah's most important talent pipelines for years, particularly in the trenches. Star Lotulelei, a former All-American and a first-round NFL Draft pick, was one of several Utes to come up from Ephraim and onto stardom.
What makes the Snow-to-Utah talent flow so potent? A combination of factors, including accountability, desire and scheme familiarity. One enters Snow either lacking the grades or the evident ability to be a Division I football player. But those who go onto DI programs have been through a two-year grinder that has made them more ready than ever for what they'll see at the next level.
"You work hard for what you get there," Tasini said. "It's the same up here. What you work for, you receive."
One-light town
It's Homecoming Week in Ephraim. There's pancakes and orange juice being served at the student center, and a Badger reunion featuring a round of golf at the Palisade public course. Trees are bursting with autumnal russet and gold hues, and there's nearby institutions of small-town Americana: a drug store, a malt shop, a drive-in movie theater.
"I don't like it here," said John Penisini, a 19-year-old defensive lineman who is committed to Utah football's 2017 class. "There's nothing going on."
There's shades of gray to what Penisini actually feels: As he walks around the Snow College campus, he hugs or says hello to two dozen people: teammates, classmates, academic advisors and coaches. Those who have helped Penisini register for classes and get him tutoring sessions say he's not a player they worry about: He is serious about school, and gets good grades.
But the West Jordan native wants out of Ephraim. And that's a trait he shares with every player who has ever gone from Snow to the Utes.
"Those guys were all on a mission," Snow College head coach Britt Maughan said. "They had their goals, and they followed them."
Badger Stadium is not a glamorous place to play football. Its seating is dwarfed by many large high schools in the state. The winds carry pungent scents, either from turkey farms to the north or dairies to the south. In the winter, as temperatures drop, farmers who have livestock grazing on the hills of the nearby canyon direct thousands of sheep down 100 North directly next to the stadium, through the town's only stoplight — one of two in all of Sanpete County.
But on the field, practices are crisp, and even idling players seem mostly focused on the action unfolding on the field.
Of the 100 or so players at this practice, 60 are on scholarship, but just about everyone is there for love of the game. They work out in a windowless, dimly lit weight room every morning, in a gym roughly an eighth of the size of Utah football's weight room. Players share lockers with at least one teammate.
The doors to the locker room read in all capital letters: "THE BEST TWO-YEAR COLLEGE IN AMERICA."
Maughan said the difference between his program and others is accountability. There isn't much hand-holding. Every morning at 7 a.m., the players assemble for "Fast Starts" in the bottom floor of the library to write down their schedule for the day: workouts, classes, homework, and anything else they want to accomplish.
It's up to them to fulfill what they write. Coaches and academic support staff will helpfully remind them if they receive a report of players missing class, but the biggest feedback comes at the end of the week: The players who get the grades get to play, and those who don't, get to sit.
"The big thing about Snow is the players are the ones doing it," Maughan said. "We facilitate your dream, but you don't get there because of this place. When our players leave here, we don't want them to say, 'I did it because of this place,' we want them to leave here knowing they've earned it."
Not that there aren't assets for players. Penisini is enrolled in Student Support Services, a federally funded program that assists first-generation college students. Bolles and Tasini were also enrolled in SSS. Through the program, students can get advising help and scheduling preference.
But ultimately, Penisini's success is on him. After tearing his labrum this spring, he's redshirting for the year before attending Utah. And he's taking advantage of the time with a jam-packed 19-credit schedule — ambitious for any student according to Angie Taukei'aho, the office's manager.
"You've got to be driven," she said. "A lot of football players come from these situations, and are just focused on football. But not everyone takes advantage of what they can get, and they don't end up playing DI."
Similar schemes
Moeai remembers his first practice with the Utes as being inherently familar. The pacing, the drills, the Xs and Os — he had seen it all before.
"When I got here and started practice, I said, hey, this is how we run practices at Snow," he said. "I think it made me realize that Snow, just because they're a junior college, they still take it really seriously. Their approach to the game is the same as if they were a DI program."
That's not an accident. Maughan was a graduate assistant at Utah in 2009 and 2010, working with safeties and linebackers. He schemed with Kalani Sitake and Morgan Scalley, two coaches who now count on his school to turn around talent for their programs.
As a result, Snow borrows heavily from time-honored Utah maxims, such as "Respect the process," and "Do your job."
"You learn to steal the good stuff," Maughan said. "Stuff that works just works. Something like, 'respect the process' — there's no better way to say that."
But it also comes down to the nuts and bolts of play design. One of Tauteoli's favorite plays as a Badger was called "Mac peel." He would run up the middle, and the defensive line would part like the Red Sea. It helped him lead the team with 14.5 tackles for a loss in 2013.
He hasn't quite found the same groove at Utah yet in his first season as a starter, but the Utes do have a similar play: "Everybody opens up, and I run down the middle. I love it."
Each of Utah's Snow alums say they came in with some familiarity of Utah's schemes thanks to their time at Snow. While there are other big adjustments coming from Juco to Division I, such as much more film study and a high-intensity workout program, there's less mental ground to cover thanks to similarities between what the Badgers and Utes do.
Take Bolles, who started in Week 1.
Maughan "gave me the tools that I needed, and it fits so good into this offense," he said. "We run very similar offenses from Snow College. I feel comfortable in this offense."
Badgers for life
At a recent Snow practice, the defense hadn't performed very well. After an hour-and-a-half session, they ran gassers back and forth across the field.
"This isn't punishment," shouted assistant A.J. Van Valkenburg, a former linebacker at BYU. "This is a blessing."
The players who believe that sentiment often make it. Maughan estimates he sends between 30 and 40 players a year to Division I schools, and that fraternity remains tight: In two years on campus, many players spend time primarily with teammates, from the 7 a.m. starts in the day, to the nightly study halls that end as late as midnight.
Tauteoli said he takes pictures whenever he sees former Snow teammates, after games against Fresno State, Utah State, SUU and BYU — and many others. Those who have been through the ringer in Ephraim share a bond that's tough to break.
"Because you're together in a small town, it makes it fun because all of us are hanging out together," Moeai said. "We're tight knit. All of us are in a group together at Snow College. So I think you get a little more community than you might get somewhere else."
At Utah, the Snow College foursome remain close friends, going out to eat together, and relishing a chance to compete against one another in practice. They made it out of Snow — that itself is worth celebrating.
But without it, they might not be at Utah. And without them, Utah would be hurting. Junior college isn't fun, they said, but it's worth it.
"It's definitely a humbling place: Everybody has the same work ethic and is trying to grind," Tasini said. "Snow has a rich history of good football players they've produced. It's just something you're proud of."
kgoon@sltrib.com
Twitter: @kylegoon