Farm management education increasing true sustainability of Utah farms and ranches
Farm management education increasing true sustainability of Utah farms and ranches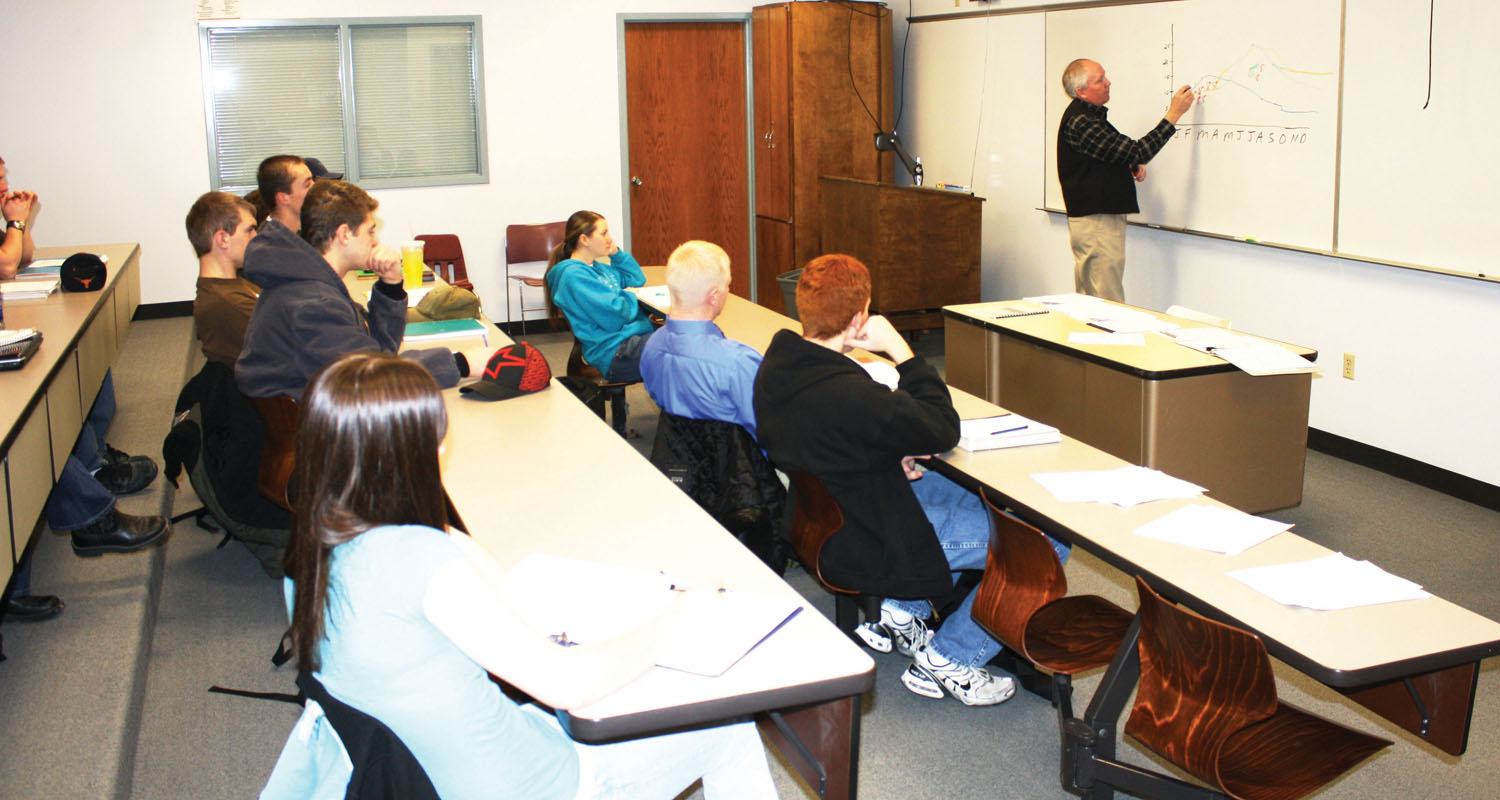 EPHRAIM, Sanpete County. – While sustainability is a buzzword in today's food culture, one of the truest measures of sustainability is keeping farms and ranches profitable so they can be passed down through the generations. To help farm and ranch families be profitable and efficient at the business of farming, management programs have been developed to fit a variety of learning styles, locations, and time commitments.
According to the Utah Center for Farm & Ranch Management at Snow College, Farm Business Management Education has been a part of Utah's Adult Agriculture education since 1984, when courses were offered through Applied Technology Colleges throughout the state. More than 30 years later, there are three colleges still providing services to a growing number of farm families in key locations – Snow College in Ephraim, Bridgerland ATC in Logan, and Uintah Basin ATC in Roosevelt.
The purpose of farm management education is to help farm families achieve their farm business and family goals. This is done through improved management, organization and efficiency of their farm operations. To accomplish this purpose, farm families enroll in specific yearlong farm business management courses. Each course has specific goals and objectives. Instruction occurs monthly at the farm, with the family using their farm's financial and production information to teach farm management.
"This is a great opportunity to go 'one-on-one' with farm families to help them improve their management skills," said Jay Olsen, Director of Agriculture & Farm/Ranch Management at Snow College. "We get to teach ag management skills to farm families, who use their own farms as their textbooks. It's great."
Olsen has been teaching the program for 19 years now, and is also joined by Kendra Sagers, who spends 75 percent of her time with the management program, and the rest with the new Snow College Rodeo team. While working with the farm families over the course of a year, Olsen and Sagers work to really flesh out the in's and out's of making management decisions on a farm and get detailed information so reports can be made to benefit the families.
"We create a report with enough information that creates a state average," Olsen said. "Then we also provide a copy of a personalized report for the family, which can be used to compare to state averages, as well as to create benchmarks for the family to use on their own farm."
The Farm Management program taught at the three campuses currently serves farm families in Beaver, Box Elder, Cache, Daggett, Duchesne, Emery, Juab, Millard, Morgan, Rich, Sanpete, Sevier, Uintah, Wayne, and Weber counties, though others could be eligible depending on timing. Participating families register for a class at Bridgerland, Snow College, or Uintah Basin campuses, and then get one-on-one instruction and monthly visits from instructors. Tuition for the class (equivalent of about two college credit hours) ranges between $200-$250 for a year of service. Some families may also be eligible for grants to help offset the cost.
While some may view farming and ranching as more of a lifestyle than a business (usually those outside of agriculture), the course gets families to look at their operation with an analytical lens. Participants look at market options, conduct budget analyses, learn about QuickBooks and how to use it, etc. and get farm-specific questions answered by instructors. They will also look back through farm records to see where improvements have been made or what more could be done.
There have typically been 30 to 40 farm families per instructor at each college participating in the program, and Olsen has been very pleased with feedback and results from participants.
"One participant said that he was in the long process of getting a loan for some additional farm land. For months he had been compiling production information and financial information by the 'best guess' method. As he started the training, he learned how each piece of information fit into his financial statements and how to compile them," Olsen said. "Early one morning, he received a call from his banker informing him that the loan had to be done today. The farmer walked into the banker's office 20 minutes later and dropped a full set of financial statements on his desk. The banker said that in 10 years of lending, he had never had a farmer give him actual financial statements."
The majority of farmers and ranchers in the program complete a financial analysis through a computer program via the Center for Farm Financial Management at the University of Minnesota. This analysis establishes annual operational plans to actively improve were their benchmarks varied from the state averages and national farm financial averages. For example, two ranches planted sorghum and grazed the windrowed sorghum throughout the winter, reducing their 90-day winter cost/head/day feed cost 90 percent (from $3.00 per head per day to feed alfalfa hay to $0.20 per head per day). One ranch did not feed one bale of hay throughout the winter, while another farmer reduced his equipment cost per acre by upgrading equipment and increasing custom swathing and baling for neighboring farmers.
In addition to the personalized farm management programs, interest among younger, full-time students at Snow College in agriculture has been increasing.
"Five years ago, our former College President (Scott Wyatt. Now the President of Southern Utah University) asked me about taking our agriculture program at Snow in a new direction. In addition to working with farmers in the field, we wanted to see how we could bring that management instruction into the classroom for our full-time students. This is when our college agriculture department took off," Olsen said. "At the time, we only had about five students with declared agriculture majors at the college. Now, having added an agriculture business set of classes and created a two-year associate of applied science program in ag business, we've had more than 60 students with an ag major, and we're looking to surpass 90 this year. I attribute a lot of this success to the vision of President Wyatt, and continued enthusiastic support from our current President Gary Carlston and VP of Academics Dr. Steve Hood."
As part of the new program in Agriculture Business, students can graduate from Snow College with an Associate of Applied Sciences in Agribusiness degree. While not all general education credits are satisfied for a full Associate of Science degree, the program is fully compatible with transferring to Utah State University and Southern Utah University.
"Our program fits the mission of Snow College well, in that we provide a great education for students starting off their university studies, providing for smaller classes and opportunities to get general education credits before transferring to another school if they'd like to," Olsen said. "Our classes are well attended, and we've added new adjunct faculty, courses for equine and a feeds course, with plans evolving for future growth. It's like the 'Field of Dreams' scenario, 'if you build it, they will come'. They certainly have."
Moving beyond the classroom, the success of the program has also enabled the school to transition from a rodeo club to a full-fledged team. Led by Kendra Sagers, the rodeo team competes in National Intercollegiate Rodeo Association (NIRA) competitions in the Rocky Mountain Region, against the likes of Utah Valley University, USU, SUU, Weber State, Idaho State, University of Colorado-Mesa, Southern Idaho University and University of Colorado-Northwestern. Individual events include saddle bronc, bareback and bull riding, along with tie down, breakaway and team roping, as well as steer wrestling, barrel racing and goat tying. In the three years since the move to become a team, Snow College has seen participation grow from 26 students to now having 43 – the majority of whom are agriculture majors, but there are several students focusing on other fields of study.
While the programs have been successful, Olsen and Sagers are hardly resting on their laurels. Plans or hopes for the future include possible Associate degrees in Ag Mechanics and other agriculture production systems. Olsen is very enthusiastic about the potential job growth in these agricultural-related fields.
"USDA has listed career projections for 2015-2020 at 57,900 job openings per year for food, agriculture, renewable natural resources or environment careers, and yet we are only slated for 38,000 graduates each year. So career opportunities are there for those kids who want stick with it," Olsen said. "Things have just aligned here so far, with kids being excited about the new offerings. Participation in the college's agriculture clubs have increased – including the Snow College Chapter of Collegiate Farm Bureau – and students are taking advantage of the many resources available at Snow College."
While the definition of sustainability in food production may be up for debate, there is no debating the success of the farm management program for farmers and ranchers in Utah. For more information on the variety of farm management and agriculture education programs available at any of the schools, please contact Jay Olsen 435-283-7335 or jay.olsen@snow.edu.