Snow College enrollment exceeds projections
Snow College enrollment exceeds projections
More than 5,000 students register for classes
EPHRAIM – Enrollment has reached an all-time high at Snow College. The Utah System of Higher Education released specific numbers for each public college and university today, and Snow College continues to grow.
In comparing current numbers to last year, a time when Snow College was one of the few colleges to grow in a challenging economy, the number of students increased by 332 (headcount), for a net increase of 6.95%. Total headcount is 5,111. Students attending full-time, which is defined as 15 credit hours, also saw a percentage increase of 4.34, or 163 students (totaling 3,909). While most USHE schools did see an increase in enrollment, Snow College exceeded growth numbers at a higher rate than most. The average USHE headcount enrollments increased 2.06%, and FTE enrollments increased 2.79% across the state.
At the state-level, growth is, "primarily driven by the missionary age change announced in fall 2012 by the Church of Jesus Christ of Latter-day Saints, returning missionaries are finding their way back to campus" a press release states. Snow College attributes some growth to this missionary factor and an increased awareness of the school's many strengths, including student success rates, affordable cost-for-value, involvement opportunities, and exceptional teaching.
"We welcome all of our students and trust they will have a hallmark Snow College experience. Our dedicated faculty and staff are committed to quality education, and they care about students. Whether in a traditional classroom in Ephraim or Richfield, on-line, or in an interactive concurrent enrollment course, students are our focus," said President Gary L. Carlston. "We see more and more students choosing to begin their studies at Snow College, and it is exciting to share this opportunity with so many. Our recruitment staff and others have worked very diligently to tell our story, and I am confident our employees will help make the promises of a small, personalized learning environment come to fruition."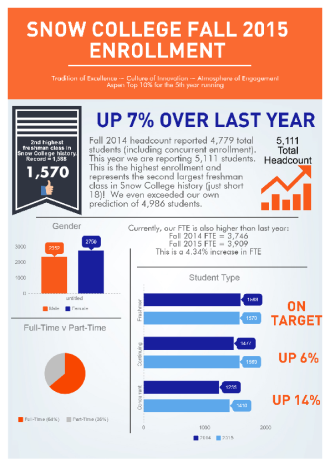 ###
Snow College, founded in 1888 by Mormon settlers, is a two-year college with campuses in Ephraim and Richfield, Utah. Serving 5,000 students, the college has been nationally recognized for its student success rates, affordable cost-for-value, involvement opportunities, and exceptional teaching.